10 Important Black Figures From 2020 – Black History Month with Word360
2020 will be remembered as an important year for Black people around the world, with global protests sparked by the brutal police murder of George Floyd in the US, and the violent response orchestrated by Donald Trump's administration.
In the midst of this ongoing struggle for change, there are so many inspirational Black figures to whom the advancement of people of colour in all aspects of life owes so much. To celebrate America's Black History Month, we've collated a list of 10 of these amazing people.
In no particular order, we'd like to introduce you to …
Laverne Cox
Known for her role in Netflix's hit show, 'Orange is the New Black', Laverne Cox is an American actress and outspoken LGBTQ+ advocate. She is the first transgender person to be nominated for an Emmy, and subsequently, the first transgender woman to win an Emmy.
Outside of her acting career, she's won numerous awards for raising awareness of the transgender community and culture, and was the first transgender person to appear on the cover of Time Magazine.
In 2016, she was awarded an Honorary Doctorate by The New School in New York City for her hard work in the fight for gender equality.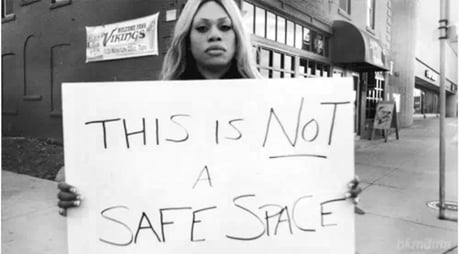 Jacky Wright
Born in London and raised in Tottenham, Jacky Wright is now the Chief Digital Officer and Corporate Vice President at Microsoft. Prior to her role, she worked with HMRC.
She has sat on the board of Year Up, an organisation that supports young adults in skill building, and on the Women's Innovation Council, which aims to improve involvement of women in science and technology careers.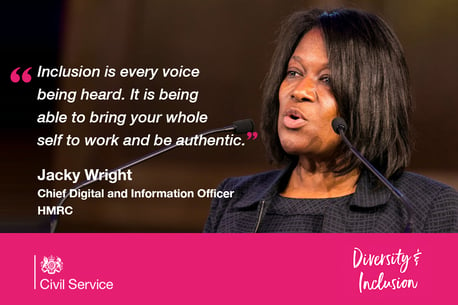 Abubacarr Tambadou
Abubacarr Tambadou is a former prosecutor at the International Criminal Tribunal for Rwanda, and, until Summer 2020, was Gambia's Justice Minister.
For over four years, security forces in Myanmar have been conducting "clearance operations" against the Rohingya, involving forced displacements, summary executions, and sexual violence.
In January of 2020, Tambadou, with the backing of the Gambian government, won a landmark ruling against the government of Myanmar and its leader, Aung San Suu Kyi, in the International Court of Justice. Aung San Suu Kyi has since been deposed in a recent military coup.
The ruling declares the actions taken by government forces in Myanmar as genocide, and ordered that the government of Myanmar "take all measures within its power" to end the violence against the Rohingya.
Tambadou was driven by his own experiences, remembering clearly how when Gambia was dominated by a violent dictator, he wished that outside forces had exerted more pressure. Mainly, however, Tambadou acted because he believed he was doing the right thing.
"International law is not the exclusive preserve of the rich and powerful countries… you do not have to have military power or economic power to stand for justice, to stand for what is right. We are doing this in the name of humanity."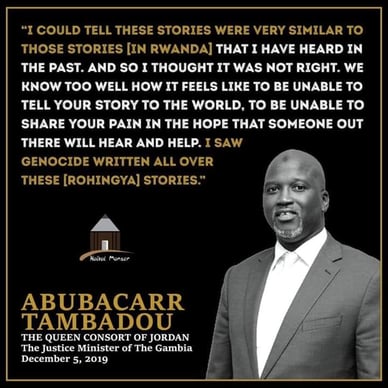 Edward Enninful
Born in Ghana and raised in London, Enniful is now the Editor-in-Chief of British Vogue. At the age of just 18, he was made Fashion Director of youth magazine i-D, and thus became the youngest person to have ever been named editor at a major international fashion title.
He is the only Black editor to head any of the 26 Vogue publications and is consistently pushing for greater diversity in the fashion industry, and regularly features Black icons on the cover of British Vogue.
In 2016, he was awarded an OBE and in September last year featured on the cover of Time Magazine, who named him the most important Black man in global fashion.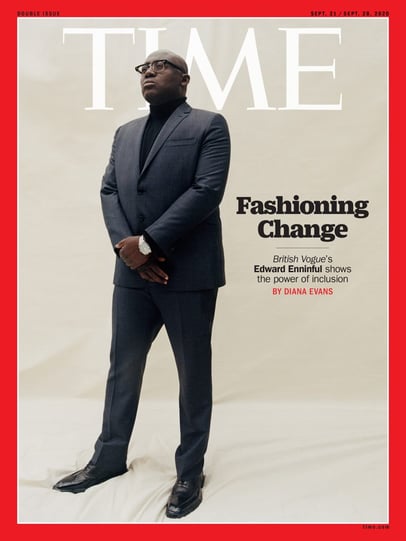 John Lewis
John Lewis was a veteran of the 1960s civil rights movement led by Martin Luther King Jr. He sadly passed away in July last year after a battle with pancreatic cancer but was a committed activist to the last.
In his youth, he was elected Chairman of the hugely influential Student Nonviolent Coordinating Committee, and helped lead the 1965 march in Selma, Alabama, which subsequently became known as "Bloody Sunday", after local police perpetrated a brutal response to the peaceful march.
It was the same month in 1965 that President Lyndon B. Johnson then passed the Voting Rights Act of 1965.
Lewis was arrested and beaten by police countless times during his persistent non-violent protests, including during the sadly infamous Freedom Rides. He worked closely with King, until the civil rights leader's assassination in 1968.
In 1981, Lewis was elected councilman in Atlanta, Georgia, and in 1986, was elected to represent a district which included Georgia in the House of Representatives, a role which he proudly held until his death.
He was termed the "conscience of Congress", and was awarded the Presidential Medal of Freedom in 2011, by then President Barack Obama.
Lewis had these words published after his death: "Though I may not be here with you, I urge you to answer the highest calling of your heart and stand up for what you truly believe. In my life I have done all I can to demonstrate that the way of peace, the way of love and nonviolence is the more excellent way. Now it is your turn to let freedom ring."
A memorial is to be built to Lewis in Georgia, on the site of a Confederate monument that was removed last year.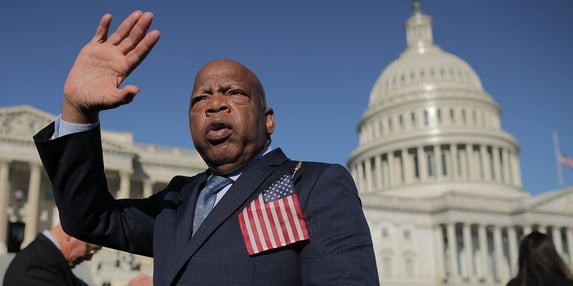 Chadwick Boseman
Right until his final days, Chadwick Boseman was an inspiration for Black youth around the world, and a committed philanthropist.
He was diagnosed with colon cancer in 2016 but kept it to himself. He was the first Black actor to headline a film in the Marvel Cinematic Universe, and repeatedly demonstrated his ability in films such as Marshall and 21 Bridges.
Following his diagnosis, he dedicated huge amounts of his wealth and time to helping children diagnosed with similar illnesses. His final tweet was congratulating Kamala Harris on her selection as Joe Biden's vice prior to their election win.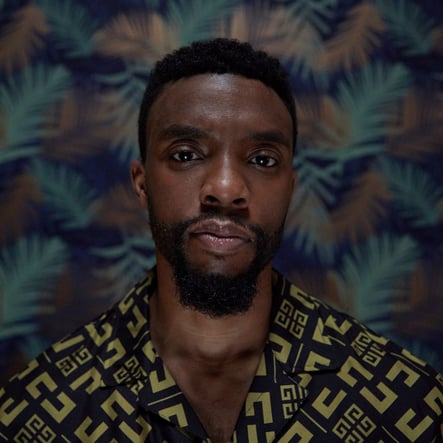 Tomi Adeyemi
Tomi Adeyemi is a hugely talented, award-winning Black author, and is the creator of the fascinating novel, Children of Blood and Bone. This story blends fantastical elements of magic with narratives of oppression.
Her writing is an inspiration to children in particular, and deals with complex and important themes. In 2020, she was named by Time Magazine as one of their 100 most important people.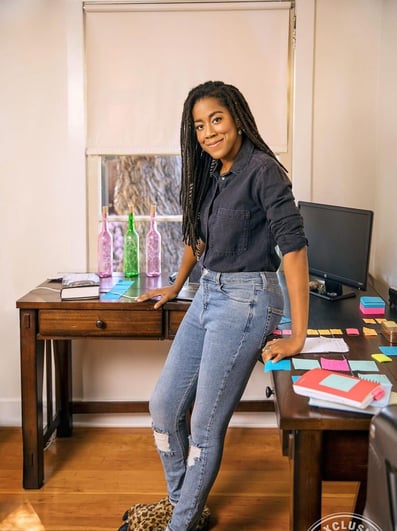 Michaela Cole
Born in London to Ghanian parents, Michaela Cole was educated at the University of Birmingham. In 2014, she wrote and starred in the Channel 4 sitcom, Chewing Gum, and in 2020 was the star of I May Destroy You, a film inspired by her own experiences of sexual assault.
Throughout her career, she has been known for portraying compelling and complex characters, and filling the shoes of notable Black protagonists.
Kamala Harris
Kamala Harris made history last year, by becoming the first Black woman and first Indian American to be nominated for Vice President by a major political party.
She previously served as a Senator for California, where she was born and raised. She has a strong history of promoting progressive policies including gun control, citizenship for undocumented migrants, and was a consistent opponent of Trump's government.
Additionally, she has long campaigned for LGBTQ+ rights in California, and was the driving force behind a series of positive reforms for the community during her time as Senator.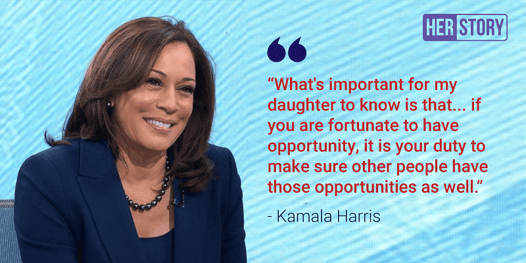 Colin Kaepernick
During preseason football (American) games in 2016, Colin Kaepernick chose to kneel during the national anthem, while his fellow players observed tradition. He did so as a protest against continued police violence and killings of Black Americans.
His protests earned mixed responses, and particularly displeased the then President Donald Trump, who suggested that team managers should fire players for not participating in the anthem.
While he was not fired, Kaepernick was left unsigned after his contract ran out, in what is widely deemed to be a political move by team managers, many of whom are Trump allies.
Since then, he has continued to speak out against police violence in the US, and founded the Know Your Rights Camp, teaching disadvantaged youth about self-empowerment, American history, and their rights.
This is by no means an exhaustive list, and there are so many others we could have included, people who do so much to advance the status of Black people and humanity as a whole everywhere.
Black History Month is celebrated each February in the US, and each October in the UK, and is a significant period of celebration and reflection.