An Introduction to BSL
Communication isn't just about speech. As well as written documents, there are several versions of non-verbal communication available.
In the UK, British Sign Language (BSL) iS among the most popular of these, helping D/deaf people communicate with other speakers, as an alternative or compliment to lip reading.
There are an estimated 11 million people in the UK who are deaf or hard of hearing, and 151,000 use BSL to communicate.[1] Many of these BSL users are interpreters or friends of deaf people too[2], so this is a diverse and important means of communication which is continuing to grow.
BSL is Growing
People are learning BSL more frequently, spurred on by the recent media sensation that was Rose Ayling-Ellis' Strictly win.
Since the show aired on October 30th fans have been searching 'how to learn sign language' while The British Sign Language (BSL) website have received a 3000% increase in people signing up to their online courses.[3]
Off the back of her success, Ayling-Ellis was able to convince the UK Government to move toward making BSL a legally recognised language. This obviously was not down to one person though. Countless groups representing the D/deaf community have been campaigning for many years to make BSL a legally recognised language and the recent interest in BSL may represent the final step in getting the language the respect and classification it deserves. Let's not forget that the British Deaf Association have been campaigning for this since the early 1980s.[4]
As previously mentioned, communication between those who are deaf and those they communicate with can vary between fully D/deaf groups and a mixture of hearing and non-hearing speakers. There is a real opportunity for people to learn BSL and improve accessibility in their places of work, while also promoting BSL.
Perhaps you'd like to be one of those who can speak BSL?
Here are a few resources to start your BSL journey with:
(Start by spelling your name or where you are from!)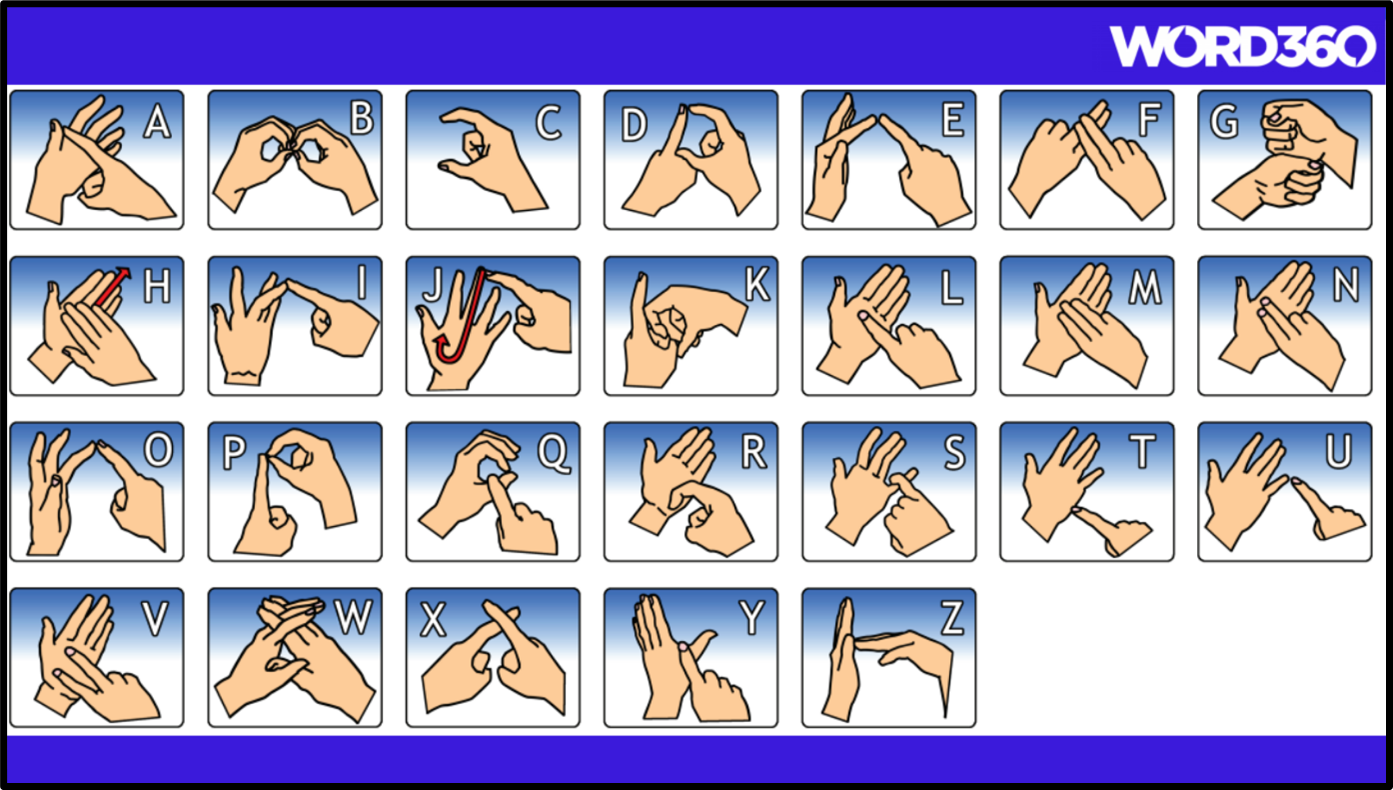 Had Fun Spelling Your Name?
Then here are a few more great words and phrases you can use when meeting someone D/deaf:
A Few More Resources

Help & Resources by The British Deaf Association – A great guide to BSL and Sign Language in general: https://rnid.org.uk/about-us/research-and-policy/facts-and-figures/
BSL Fingerspelling Word Generator – British Sign offer this great tool for learning to spell by giving a visual representation of whatever you type, like the example above (see if you can work it out!): https://www.british-sign.co.uk/fingerspelling-word-generator/
BSL Fingerspelling Game - If you've learned a bit of British Sign Language now and want to test it out, British sign also offer this great test with a daily leaderboard: https://www.british-sign.co.uk/fingerspelling-game/
BSL Alphabet Video – If you'd like to see how the BSL alphabet looks in practice, this video from Exeter Royal Academy for Deaf Education is a great resource: https://www.youtube.com/watch?v=DgIvXXdwjvw
Recognised BSL Qualifications – The Institute of British Sign Language (accredited by Ofqual) offer a range of qualifications for if you want to take the next step in becoming a fluent speaker of BSL, or even an interpreter: https://ibsl.org.uk/qualifications/
Word360's BSL services – Have a look at what we offer around BSL and other non-verbal services, then feel free to get in touch: https://bit.ly/3uIoTX6

A bit more info…
If you would like to improve accessibility for your clients, please see our pages for BSL and other forms of non-verbal interpreting or translation:
If you'd like to learn more, please get in touch: https://www.word360.co.uk/contact-us
[1] https://www.gov.uk/government/publications/understanding-disabilities-and-impairments-user-profiles/saleem-profoundly-deaf-user#:~:text=the%20user%20experience-,Statistics%20about%20hearing%20loss,BSL%20users%20in%20the%20UK.
[2] https://bda.org.uk/help-resources/#:~:text=British%20Sign%20Language%20(BSL)%20is,they%20use%20BSL%20at%20home).
[3] https://www.mirror.co.uk/money/shopping-deals/strictlys-rose-ayling-ellis-inspires-25409531
[4] https://bda.org.uk/wp-content/uploads/2017/03/BDA_Legal-status-of-BSL-ISL_11-Mar-2014.pdf