Why Technology Means a New Era for Cosmetics
Technology is now an inescapable facet of our everyday lives, before, during, and after the pandemic, this was, is, and will be true. A fantastic example of this is the cosmetics industry, which has embraced digital technology wholesale in order to keep up with new consumer demands.
By 2023, the cosmetics industry is expected to be worth £583 billion ($805.61 billion), and has traditionally been very dependent on physical high street retail.
Technology is helping players in the industry understand their consumers and how best to connect with them. We're going to be taking a tour of three key areas of the new technological world of cosmetics, before jumping forward to see what the future might have in store.
We'll examine new in-store experiences, how data is being collected and used to drive consumer experiences, how brands are using content as a cornerstone, and the role of social media, before our prospective look to the future of cosmetics.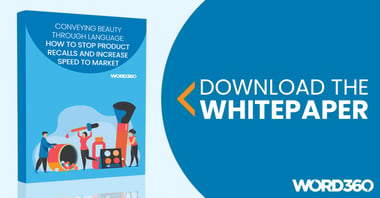 Enhancing in-store experiences
The role of humans in store-based cosmetics retail is evolving, to include a much more hands-on, almost educational role, and in-store technology is evolving to support and supplement this.
Sales assistants are now expected to act almost as beauty experts, giving beauty tutorials and even makeovers in-store. In addition, they are becoming more responsible for data capture, via the increasing use of POS-based loyalty schemes.
Augmented reality is emerging as the best and brightest new tool for in-store cosmetics retail. As far back as 2014, L'Oréal Paris launched its Makeup Genius app, in partnership with Image Metrics. They then acquired ModiFace in 2018, allowing them to directly develop their own apps.
These AR-based apps allow users to adapt the front facing cameras of their smartphone into virtual mirrors. Consumers can use this to try on makeup from a catalogue at home or by scanning barcodes in a store, all without having to handle samples or disrupt their existing look.
Similar technology underpins tools used by Sephora, to give customers a free skin tone check which is then able to recommend a number of products most likely to suit them personally.
Sephora also uses 'Digital Workshops', where customers can come into a store and spend time at a digital workstation, watching tutorials of the latest techniques and even get group beauty tutorials.
Keen to make the in-store experience as valuable for customers as possible, Sephora has also trialled Bluetooth beacons in its stores. These beacons send updates to customers' phones as they enter a store and inform them of the latest events and sales relevant to that location. They found that 80% of their app customers opted into the scheme, and planned to roll the beacons out across more stores, once the technology and their usage of it had some time to evolve.
The importance of data
In any industry, data is hugely important, but because of the highly personal choices involved in consumer decision making in cosmetics, data is not a tool that anyone in the industry can afford to forfeit.
However, gathering data on such a personalised product can prove difficult. American data collector Poshly has devised a simple way to provide brands with a solution. Poshly offers consumers the chance to win beauty products in exchange for answering questions.
This highly personalised data is then anonymised and made available for beauty brands in return for a fee.
Intelligent data collection and usage has seen the emergence of a number of beauty brands based on smaller, more cult online followings who are much more intensely engaged than average consumers. For these brands, this kind of data is their foundation, and they could not have cultivated the followings they have without it.
Using online content as a cornerstone
Google figures suggest that 66% of beauty consumers say that YouTube had influenced their purchases by helping them contextualise products and see how they would improve their lives.
This contextualisation is achieved through content generation, often video but written too. Beauty content is usually centred around tutorials and advice, as more informed and engaged consumers will likely buy more products and receive a better experience.
Both L'Oréal and Birchbox, for example, offer vast quantities of content on YouTube, including tutorials, celebrity campaigns, new product launches, and influencer content.
There's power in social media
Much like written and video online content, social media content is a crucial tool for allowing potential customers to contextualise products. Nyx and Sephora, for example, have garnered themselves huge followings on social media and are well known for their interactivity, liking customers' posts and sharing positive reviews.
This kind of accessibility has allowed brands like Nyx and Sephora to engage with their audiences, grow their followings, and, most importantly, attract new consumers.
Social media also allows for a new level of partnership and resource sharing across brands with similarly aligned goals. In 2017, Sephora partnered with the millennial publisher Bustle, to promote the 'Sephora Collection' through Bustle's considerable social media presence. This allowed Sephora to reach new audiences who were already engaged.
This particular promotion also took place largely over Bustle's Instagram Stories, which allows for the integration of the 'swipe up' feature, whereby viewers are then directly linked to the point of purchase for that particular product.
Social media platforms as a whole, but particularly Instagram where the beauty industry is concerned, allow consumers to shop directly from the platform in question. Additionally, as of 2017, they now feature a range of insightful analytics tools.
Many brands are now beginning to embrace Snapchat too, which hosts the youngest average demographic of any social media platform. L'Oréal was the first to test the waters and used its AR tech to develop their own Lens, with others soon following suit.
However, with an increasingly crowded social media space, platforms such as Facebook-owned Instagram are finding new ways to provide users with content. Updates to Instagram's algorithms now mean that the way it preferences content for any given user is much more similar to Google's Rank Brain updates, meaning that content is more frequently shown if it can achieve the more challenging engagement markers of being sent between users or bookmarked.
Ultimately, this indicates that the world of social media is moving in the same direction as the more well-established content world, where it's the quality and value of your content that matters most, not simply how many people see it.
Looking to the future
The presiding trend for the future of technology in cosmetics is the growing demand for increased personalisation.
Some are leaning into this prevailing demand, such as US retailer Penrose, which allows customers to create personalised fragrances. Grace Choi's Mink allows the user to 3D print eyeshadow, in any colour they can find online.
The world's first digital makeup artist, MODA, makes any beauty look found online possible by 'printing' directly onto the users' face.
Technology like this, combined with the more intelligent collection and use of data, and more impactful deployment of social media, will allow beauty brands to compete in a market where consumers understandably want an increasingly personalised experience.
In step with efforts to personalise, brands will need to be able to speak to their consumers in the most direct way possible, in their own languages and in a way that is the most impactful to them. This will require the integration of language and design localisation into almost every step.
If you'd like to learn more about the power of language localisation and see how it can prevent labelling recalls in the beauty industry, grab a free copy of our Conveying Beauty Through Language: How to Stop Product Recalls and Increase Speed to Market whitepaper below.