Braille is a powerful tool for improving communication and accessibility for individuals who are blind or visually impaired. Using a system of raised dots to create letters, numbers and punctuation that individuals can read using their fingertips without relying on sight.

We offer braille translation services for all key documents and contracts with a fast turnaround whenever it's needed.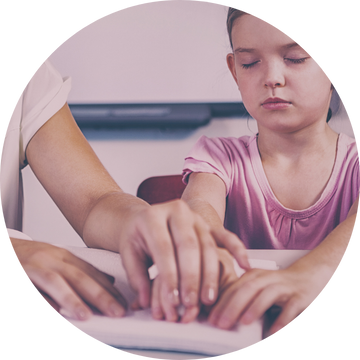 Who is it for?
Braille is used to support people who are blind or visually impaired.

Uses:
Educational Materials
Government & Legal
Documents
Housing
Health Information
Books & Magazines
Product Labelling
Navigation in buildings & public places
Websites, mobile phones and online content
Business & Financial Communications
Get in touch

Award winning
Fantastic customer service with 99.9% fulfillment, we're working on the 0.1%.

Access sector specialists
We will help you choose the right services to make you accessible to your audience.

Highly experienced EasyRead translators
Our experts are the best in the business.

Security as standard
We're ISO:9001 Quality & ISO:20071 Security accredited.
Here's how your braille translation works
Just send us the file you need translating, we'll review it and come back to you with a competitive quote and lead time in hours. If you're happy to go ahead your braille translation will follow this process.


3
Formatting & design services

4
Braille translation proofread

How inclusive are you?
Find out your inclusivity maturity score! Get instant results across 5 categories and a personalised 13-page report sent straight to your email.
Reveal your score against your industry.
No obligation FREE evaluation of needs