Have your conversations supported with in-person interpreters
Over half of communication is non-verbal or related to body language, which means face to face interpreters are experts at picking up on physical nuances which can alter the overall meaning of what is being said. Face to face interpreting therefore takes into account all physical and vocal elements of communication, delivering a truly accurate translation.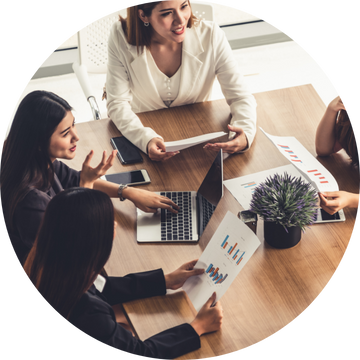 Uses for face-to-face interpreting
This type of interpreting is ideal for facilitating the most natural conversation possible between two or more languages, especially in situations which deal with important or sensitive information which is best delivered in person. These include:
Legal meetings, PACE interviews and client meetings

International business meetings
What are the benefits of using face to face interpreting?
Any language, anytime
350+ languages in 2760 language pairs

Tailored to your user
Chose from male or female interpreters, keeping the same person for continuity

Security as standard
All of our interpreters are security cleared and enhanced DBS checked

Access sector specialists
With industry experts in medical, pharmaceutical, legal, cosmetics, charity, marketing and many more.

Quality and consistency
We're ISO:9001 & ISO:27001 accredited for streamlined processes

Five-star customer service
From patient experience to technology innovations, our awards showcase our commitment to excellence
Need to communicate with Deaf or hard of hearing service users?
Access dedicated British Sign Language (BSL) interpreters 365 days a year to ensure nobody is left out of the conversation.
Why use face-to-face interpreting instead of telephone interpreting?

Human connection
Physical presence of someone who speaks their language can help put service user at ease and make them more comfortable.

Patient continuity
Specific interpreters can be requested for a series of appointments, providing a sense of continuity.

Body language
Correctly interpreting body language is invaluable in safeguarding situations, as well as well as when working with children.

Sensitive bookings
Best for planned appointments, especially for sensitive information which is best relayed with a human touch.
How it works
Our face-to-face interpreting service provides you with local interpreters with local knowledge at the click of a button.

1
Choose your service plan

2
Key information supplied

3
Our AI algorithm talent-matches to an interpreter

4
Confirmation of booking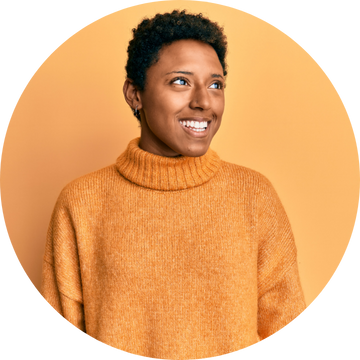 We're certain you'll be as happy as our other clients:
"Word360 offers more than a service, they really do work hard to understand the individuality of organisations, endeavouring to form a robust partnership with the customer at its heart."
Read the blog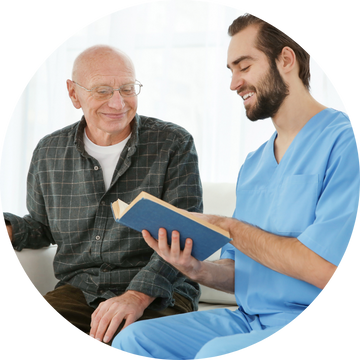 See how face-to-face interpreting has been vital for the NHS
During the course of Word360's fully managed agreement with Walsall Healthcare NHS Trust, beginning in 2016, we exceeded every KPI by a minimum of 4.9%, and achieved close to or exactly 100% success rates on all measurables.
Additionally, Word360 undertook language assessments and training with Link workers, and prioritised matching them with bookings in their languages.
Read more
Frequently asked questions
Are your interpreters employees of your company or independent contractors?
Our expert interpreters work on a freelance basis. Every interpreter we work with is provided with extensive training and signs a client confidentiality NDA, meaning you can book an interpreter with complete confidence. Furthermore, in line with our security standards commitment, all interpreters are required to have an enhanced DBS check as standard.
What is the difference between interpretation and translation?
The fundamental difference between interpreting and translation is that interpreting relates to the spoken word delivered either in person (face-to-face), over the phone or through a video conference. By contrast, translation relates to written content such as documents other hard copy information.
How much does an interpreter cost in the UK?
The cost of an interpreter will vary on the skill level and subject matter they are interpreting in. There are also different charges depending on whether you would like the interpreter to attend on-site or through digital alternatives, such as telephone or video. The in-person rate (face to face Interpreting) begin from £35 per hour and for telephone interpreting the rates can be as low as 45p per minute based on how often you use the service.
How far in advance do I need to book an interpreter?
This can vary on the type of booking, the skill of the interpreter, length of booking and location. We would always advise that you should try to book your interpreter as far in advance as possible - just like seats on an aeroplane.. They can get booked up pretty quickly especially if you are looking for support in a rare language such as Twi or Oromo.
In any case, please do get in touch with us, if you are unsure, and one of our customer service team can check our schedules to find a time that an interpreter is available.
How far in advance do I need to book a British Sign Language interpreter?
With a national shortage of professionally qualified Level 6 NRCPD qualified interpreters, we always ask that our client book at least 3 weeks in advance for British Sign Language support where possible.
If you are requesting for BSL interpreter with very short notice such as on the same day, we may suggest alternative services such as remote video interpreting to support your service user. Alternatively, we will review our interpreter schedules and suggest alternative dates and times.
Will I get the same interpreter for multiple interpreting sessions?
Yes - Absolutely. We understand the importance of continuity and the rapport that you and your team will have built with an interpreter – so unless you tell us otherwise, we will always try to ensure that you have the same interpreter for all of your interpreting sessions, where possible. If for any reason the interpreter is unavailable, we will try to match the skills and experience of the interpreter with the replacement.